Monday, January 24, 2005
'Braveheart' Becomes Role Model for Christian Men.
When Jesus just isn't ninja enough:
LOS ANGELES (Reuters) - Movies like "Braveheart" and "Legends of the Fall" are on the viewing list for men in a growing Christian movement that calls for them to throw off their "nice guy" personas and emulate warriors.

The book which inspired the movement, John Eldredge's "Wild at Heart," has already sold 1.5 million copies in English and been translated into 16 languages, most recently Korean.

Eldredge believes many Christian men have become bored, "really nice guys" and invites them to rediscover passion by viewing their life's mission as having a battle to fight, an adventure to live and a beauty to rescue.
Ain't that the truth. My life's mission is certainly a battle. A battle in trying to find affordable slacks for the husky man. An adventure to fill out the cover sheets for my TPS reports. And the only beauty in my life right now is Miss January.
As you can see, all that's missing from my life is the effin' kilt.
"The guy who sits in front of the television is unengaged. That man is a bad man. They (children) need engagement whether it is playing on the floor with your 1-year-old or tougher games when they are 15 (years old)," he said.
But wait, I don't have kids. Does this concept still apply to me?
If I had a fifteen-year old kid, I promise I'd play tough games with them. Like, say,
Ultimate Fighting Championship
.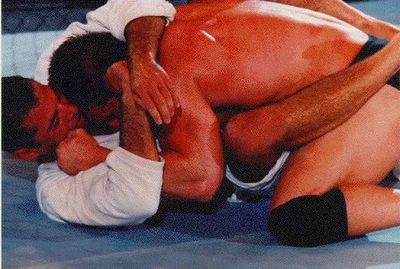 It's ultimate fighting, Andrew Sullivan-style.
Jim Chase, an advertising copywriter from La Crescenta, California, has had a replica of the sword actor Mel Gibson used when he played legendary Scottish warrior William Wallace in "Braveheart" hanging above his desk since attending a Wild at Heart retreat with 350 other men last year.

"It is just a reminder that we are in a battle every day. It can be just facing boredom and routine, but it is a battle," Chase said.


Jim and I have the same idea. That's why I have
one of these
hanging over my desk to remind me I'm a warrior.
The movement has stirred controversy, attracting criticism from some Christian leaders who fear he may just be reinforcing stereotypes.

While some women have welcomed suddenly receiving flowers and more attention from their husbands, in the long-term there are concerns about the impact on marriages.

I'm concerned too. One day, your husband is surprising you with caramels. The next, he's liberating Scotland from English tyranny. That's a recipe for nuptial disaster in my book.
At least there's a bright side to this "Onward Christian Soldiers" movement. I bet there's a lot less hugging and crying.
Because it's kinda hard to wield a broadsword like a man when you're sniffling like a wussy.