Friday, January 14, 2005
The Danish Threat-- Unveiled!
Sobekpundit
offered kind praise for me and my ongoing struggle against
the ape threat
and
the Danish tyranny
.
Although I don't publicize my efforts against these horrors every day, you can rest assured that I am always on the case.
People often ask me, "
Dave, I understand why we should fear the ape. But tell me: why we should fear the Danes
?"
Let me tell you why: they're in collusion with aliens.
You doubt me? Let me introduce you to
Princess Alexandra
:
Now, the Princess is a bright, beautiful woman. She joined the Danish royal family in 1996 when she married Prince Joachim. They announced their divorce in 2004.
. . . Or did they
?
The Hong Kong-born Alexandra may profess her love of charity work on behalf of her adopted homeland, but
Garfield Ridge
knows better.
You see, Princess Alexanda is a visitor. Not just from Hong Kong-- from another planet!
My evidence? Let us examine her facial structure:
Piercing eyes, puffy jowls, a curvy smile, and an artificially perfect nose. To date, such features have only been seen in one other woman: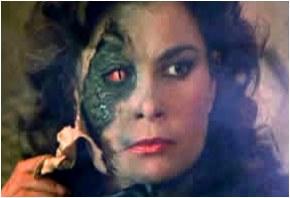 It is clear that Princess Alexandra was enlisted-- natch,
recruited
-- into the Danish Royal Family for nefarious purposes. Alexandra is obviously in Denmark as a member of the Visitor's diplomatic corps. Her charitable activities serve as a cover for the harvesting of innocent Greenlanders for the Visitor's food supply. In return for this devil's bargain, the Danish Royal Family receives alien protection and technology.
I admit, it's only a theory, but reliable sources confirm that Princess Alexandra eats all her meals
just like this
.
The question remains:
why the divorce
? Perhaps the Visitors exhausted their Eskimo culls, and decided to recall Alexandra to the mothership? Or, maybe this is evidence of Machiavellian treachery on the part of
the Blood Queen
, only this time aimed at the aliens rather than the poor subjugated peoples of the Skagerrak? Only time will tell.
In the meantime: watch the skies.
Watch the skies
!
Comments:
Let's be honest: I'd sell out the human race to be Princess Alexandra's sex monkey. Just a heads-up for the alien procurers out there.

Post a Comment
<< Home