Monday, January 24, 2005
Finally.
One of the most brilliant NFL players ever is finally getting his chance to coach.
Too bad his chance is in San Francisco
:
SANTA CLARA, Calif. (AP) -- Though Mike Singletary stayed away from the NFL for a decade after his playing career, he never lost his love for football. The Hall of Fame linebacker believes he can instill a bit of his famed competitive fire in the young San Francisco 49ers.

Singletary was hired to be the 49ers' assistant head coach and linebackers coach Friday, following new coach Mike Nolan from Baltimore. Singletary was the Ravens' inside linebackers coach for the past two seasons while Nolan was their defensive coordinator.
To any Bears fan worthy of the name, Mike Singletary will always be a hero. He wasn't always the fastest or the strongest linebacker on the field. But he sure could read an offense, sometimes even better than the quarterback facing him.
And, let's be honest-- seeing these eyes along the sideline have to be worth at least three wins next season: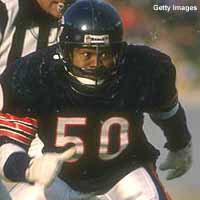 Comments:
I had a chance to see him when he spoke at a company function several years ago.

Even wearing glasses and a suit and tie, he still had The Eyes.

Oh yes, Mike Singletary is at the center of my favorite Bear moment of all time. In the 1985 NFC Championship against the Rams, he stuffed Eric Dickerson on a third and one with a crunching solo tackle. It gives me a woody just thinking about it.

Strangely enough, I was watching the game at 9:00 in the morning at Toby's Tavern in Coupeville WA, since my mom only got three channels and CBS wasn't one of them. I had to hitch a ride into town from the neighbor because her car died the night before.

Toby's Tavern??? In Coupeville, Washington?!?

Never heard of it ;-).

Glad to know you enjoyed #50's performances. What's depressing is that every time I hear about "Superbowl 39," that means the Bear's Superbowl was nearly *twenty years ago*.

Man, that hurts.

Post a Comment
<< Home