Sunday, January 16, 2005
I'm Doing All My Shopping Here.
This one goes out to the Mac Daddy lovin'
Hans Bricks
(who is now on my Sidebar!)
Iced Out Gear
.
Why should you choose Iced Out Gear out of the many bling bling, hip hop jewelry and urban clothing sites out there? Well the answer is simple. Our prices are way lower, our bling bling, hip hop jewels are much better quality and have more shine and last than any other hip hop jewelry websites you can find and we get you top notch bling bling, hip hop clothing for prices way below any other sites or stores! All our custom jewelry has the craziest bling bling shine you'll ever find, because it is made with the finest Austrian Crystals and Cubic Zirconia stones that will NOT fall out like the other guys!
Oooh, nothing but the
finest
Austrian Crystals and Cubic Zirconia? I'm sold.
They've got
watches
, they've got
dog (dawg?) tags
, and my personal favorite:
pimp goblets
.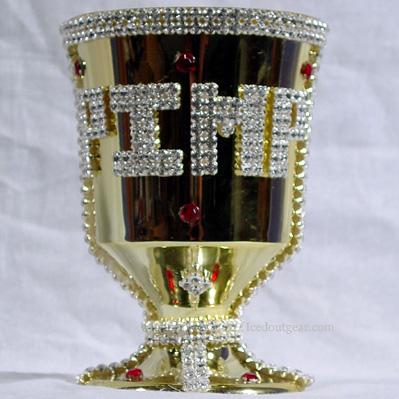 You can swill some pretty fly crunk juice with this beauty.
Wait, that's not all! Iced Out Gear also carries something so outlandish, so unique, that I'm seriously considering buying this. Okay, maybe not, because it's over a hundred bucks.
But you tell me the
LED Scrolling Text Iced Out Belt Buckle
isn't the coolest pimp accessory
ever
: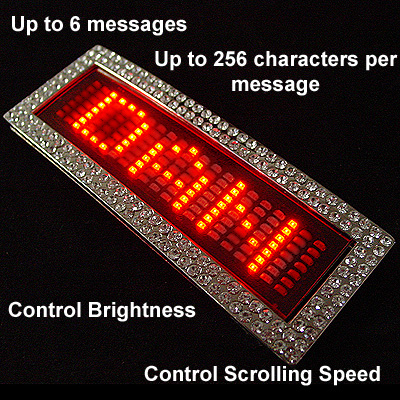 Flashin' messages to all your G's across your bling belt billboard. . . now that's livin' large and
in charge
.
Of course, the dilemma facing any pimp wearing this buckle is,
what should it say
?
Actually, I think it'd be kind neat to scroll the weather, sports scores and market closings across the buckle.
Barring that, here are some other suggested messages for your LED Scrolling Text Iced Out Belt Buckle:
--
My Other Buckle Is A Porsche.
-- In Case Of Medical Emergency, Dial 911.
-- If You Can Read This, You Should've Bought Me A Drink First.
-- Officer, The Permit For My Gat Is At Home, I Swear.
-- Hey Ladies, Head A Few Inches South For The Winter.
Yup. . . I can't wait to wear this into the office.
Comments:
I was just thinking to myself, "You know, I like playing Grand Theft Auto: San Andreas, but it seems wrong to drink from a jelly jar while I tooling around in leopard print cowboy hat and a pimped out convertible. What I wouldn't give for more flashy beverage container that is still economically-priced." And now, thanks to the miracle of the internet and durable, gold-colored plastics, my dilemma is solved.

Post a Comment
<< Home