Sunday, February 06, 2005
Sobekpundit's Liveblogging From Mardi Gras.
Okay, that's a bit of a cheat, since Sobek
lives
in New Orleans. It'd be kinda hard for him to miss all the fun.
Still, I'm so jealous of him right now because he got beads from the star of
K.I.S.S. Saves Santa
, Gene Simmons.
No
, not Jean Simmons:
*GENE* Simmons: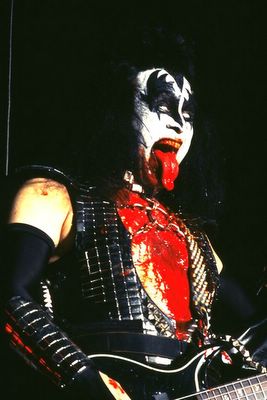 Best of all, Sobek
has the pictures to prove it
.
Let's hear a big round of applause for Sobek. He must have really spectacular tits.
Comments:
All due respect to Sobek, from I've seen in New Orleans, you get beads with below-par tits. Gherkin-tits, even.

The process of bead-giving during Mardi Gras appears distinctly non-deterministic. Therefore, I'm not implying that he doesn't have really spectacular tits.

I'm just saying.

Post a Comment
<< Home