Thursday, February 03, 2005
State Of The Union Wrap-Up.
I'll keep this short-- you either watched the speech, and know it already, or didn't watch the speech, which means you don't care.
--
Social Security reform
: I was for privatization before the President supported it, I'm for privatization after the President supported it.
Slick rhetorical move by Dubya to use examples of reform after reform. . . proposed by
Democrats
.
So, Bush wants to make Social Security more like the Thrift Savings Plan? Wonderful! I've made nothing but bank with my TSP account. And that was
even through the recession
.
Granted, the downturn sucked-- I only kept pace with inflation. Like, say, Social Security.
But in the good years? Just beautiful.
Now that the speech is over and the proposal is on the street, I expect everyone to come together now and engage in a calm, reasoned debate.
HA! Man, I'm a funny guy. . .
--
The War
: Great statements that had the added virtue of being true.
I loved Bush's statement on Iran; it may seem like such a small thing to say, but one only needs to look at the histories of the Soviet gulags to know that *any* statements of encouragement meant much to those imprisoned.
As for Iraq. . .
You show me someone in America who did not choke up when the Norwoods were introduced, I'll show you someone who hates this country. You show me someone who didn't start to lose it when Safia Taleb al-Suhail hugged Janet Norwood, and I'll prove that they have no heart.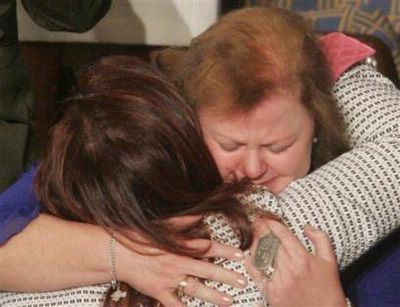 Thank you.

Political theater? Almost certainly; Bush is a keen student of A-B-C: Always Be Closing. His speeches start weak-- this one in particular dragged through nearly Clintonesque policy minutiae, but man, he sure knows how to end them.
But even if this had the element of stagery going on, that doesn't detract from the honesty of the moment: an Iraqi thanking an American for the most terrible of sacrifices.
For some reason or another the A.P. doesn't have a picture of the hug, but if one image stays with me, it'll be that one, for a very long time to come.
-- The Democratic Response: Would someone please explain to me how the Democratic Party will bring us forward into the 21st Century when they won't bother leaving the 20th behind?
No, really, I'd like to know. I'm what the cool cats call
curious
.
I can tolerate Harry Reid. Sure, he's got a loony streak, but he's representing a loony party; it comes with the territory. At least he doesn't yell. Hell, he barely speaks at all.
As for Nancy Pelosi, well. . .
Stop lecturing us, Nancy.
Nancy Pelosi talking about national security is like me talking about Australian rules football: just because you've seen it a couple of times on TV doesn't mean you understand the rules, let alone can play the game.
But hey, whadda I know? I'm off my meds.
---
This posting was made on my personal computer.
Comments:
The one thing I really liked him saying about the Social Security reform was when he was talking about the federal employees who already have a similar plan and then pointing out "Why not let the rest of America have this choice?"

Or something to that effect...very good way of putting it. Yet, Senator Reid still had something against it....oh well, what can ya do.

Post a Comment
<< Home